Sales Force Management:
Let's Look At The Responsibilities Of The Sales Manager
Effective sales force management with an equipment dealership is always challenging.
As a sales manager for a Caterpillar™ dealer I was always deeply involved in a number of activities that required immediate attention and good judgment in order to win the deal.
Market Share
The sales manager is held accountable for improving Market Share as well as maintaining high levels of gross margins.
At times these responsibilities seemed to contradict one another.
Dealer management required market share improvement every year yet I was required to maintain or improve gross margins.
Equipment Pricing
Naturally, customers were asking for a lower price for equipment.
Sales representatives constantly complained that our prices were too high and we must offer the customer a discount or we would lose the business.
I am sure this sounds familiar to anyone who is involved in sales force management.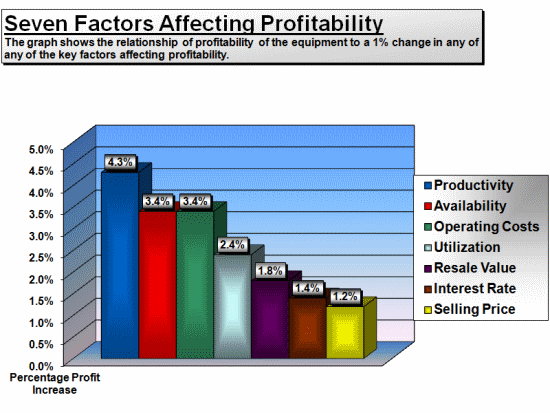 The 7 Factors chart above has helped me train my sales personnel to understand that the "selling price" of equipment has the smallest impact on the profitability of the equipment.
As we all know our customer purchase equipment to make to generate income.
I required all the sales force to take this chart with them on a sales call. When they used this chart the discussion with the customer changed from pricing to all the other factors that influence machine profitability.
As a result, more machines were sold and at higher profits.
It works!


Inventory Management
Good sales force management certainly includes managing equipment inventory.
At the dealers where I worked it was a key factor in "cash flow" and "working capital". There was constant pressure to manage both.
Too much inventory and the financial controller was pressuring to reduce inventory.
Too little inventory and you could easily lose several deals to the competition who may have the machines in stock.


Used Equipment
Then there was the issue of "trade-in" to manage.
Evaluating a trade-in is as much art as it is science.
I have never met a salesman who believed the trade value to be exactly right, salesmen want higher trade values to make the sale go smoothly.
Not surprisingly, the Used Equipment manager believed we over-valued trades putting his department as risk.
The Used Equipment manager was responsible for meeting gross profit goals as well as I was. The negotiations were always interesting.
I discovered that the best way to settle differences in trade values was to have the sales force pre-sell the trade-in.
That ended the discussion on trade values.
As a sales manager I set a commission objective that paid great bonuses to sales personnel if they pre-sold the trade-in 50% of the time.
The sales personnel were very happy and the dealership increased the gross margins on equipment sales by over 25%.
This should be consider as strong sales force management.
I strongly recommend you set an objective to motivate your sales force to "pre-sell" their trades.
Rental Equipment
Rentals were very interesting and had it's own challenge.
This was another opportunity for conflict.
Salesman generally felt that the rental equipment inventory was too low and we would lose the opportunity to improve market share and generate profit (and a commission).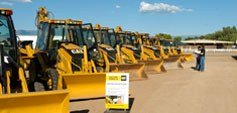 Here is another challenge in sales force management.
Senior management held me accountable for rental fleet "utilization". If the rental fleet at my branch locations dropped below 80% I was unable to add "new inventory" to the fleet until fleet utilization improved to 80% or better.
The salesman believed that the rental was going to convert to a sale therefore there was no risk. The truth of the matter is rentals converted less than 50% of the time.
Making it clear to the sales force that Rental Fleet utilization was a key factor in getting additional machines in the fleet was a key factor in making Rental successful.
Sales Training
Sales training was also a challenging activity.
Too much training and I was guilty of keeping the salesman out of the field where the money is made.
Too little training and the salesman was not prepared to close the deal or develop a relationship with the customer.
This is a "balancing act" that I had to pay close attention to.
What I discovered over the years was that sales personnel should have at least 80 hours of classroom instruction and 40 hours of in field training.
The field training was done by me or one of the senior sales personnel. We attended customer meetings with the sales personnel.
This was followed up with a "written" critique of the meeting.
It is surprising how much the slaes personnel took this training to heart.

Click here to return to the top of Sales-Force-Management


Equipment Sales Forecasting
As a sales manager I was also held accountable for an accurate Sales forecast, this is a very important segment of sales force management.
The forecast were completed under a very strict system which was reviewed with the sales force every week and with senior management every month.
If there was a variance in the force we were required to justify the change in forecast before it was accepted.
This required that I was fully engaged in what was going on in the market.
You can not rely solely on historical data so I had to stay close to what customers were telling us what was going on.



Thank you for visiting Sales Force Management, please click here to return to the home page of Equipment Dealer Secrets