The Best Parts Managers Achieve 25% Net Operating Income.
The top Parts Managers are able to produce 25% net operating profit year after year.
The problem is that only about 10% of equipment dealers reach that level.
So what needs to be done to allow equipment dealers to reach the goal of 25% net operating profit?
Let's first look at financial standards that the top-tier dealers use to measure their performance and we may get some clues.

Key Financial Standards For Parts Departments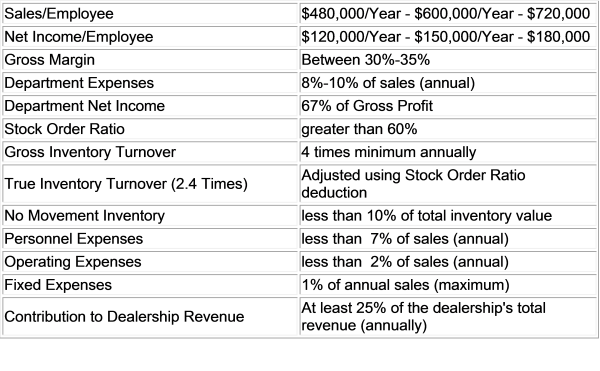 How Does Your Dealership Compare?
As a Parts Manager are you measuring your department's financial performance using these standards?
Let's take a brief look at how to achieve these standards.
Sales/Employee: Can range from $480,000 to $720,000
You may be asking why is there a range of sales per employee?
The answer is simple.
It depends on the make up of your machine population. If you are a dealership working primarily with smaller machines (below 200 horse power) the selling price will naturally be lower than if you have a machine population made up of larger machines (400 horse power and up).
How Do You Meet The Ranges Above? Here are a few suggestions.
Prepare a machine population list for each customer
Contact your top 25 customers weekly with a "value-package"
Prepare a "contact booklet" describing how a customer can reach your department to source any Parts needed for their machine; include contact names, telephone numbers and after hours telephone numbers
Prepare a "quick-reference" guide for each customer on how to get maintenance items for their machines
Assign specific accounts to Parts Counter personnel to work in conjunction with Customer Support Reps to sell jointly
Compensate Parts Managers and Parts Counter personnel for increased parts sales over an established target (establish bonus targets)
Improve Customer retention rates to 80%
I suggest you review the link in this website on "Customer Retention".
Click here and it will open in a new window. You will then be able to come back to continue reviewing these standards.
---
How Can You Maintain Gross Margins Between 30% to 35%?
Here are a few suggestions.
Avoid discounting Parts sales when ever possible
Plan stock ordering to avoid emergency and rush charges
Take advantage of special purchases from manufacturer and other vendors
Maintain annual inventory turnover of 3.0 times or greater
Return REMAN cores in a timely fashion
Again, this is a brief overview however, gross margins deteriorate quickly if you don't use these suggestion.
---
Let's Review All Expense Standards In This Section
How Can You Maintain Department Expenses At 8% to 10% of Sales?
Prepare and review position descriptions for each job in the department.
Provide a performance review annually with each employee
Control the use of overtime as much as possible; use overtime only when absolutely necessary
Use 12 to 15 line items processed per hour per employee
Determine by personnel "market-review" what he going wages are for each position in the Parts department
Control shipping and receiving expenses; recover freight and rush charges whenever possible
Review "best-practices" with other Parts Managers at all branch locations on controlling these expenses
---
How Do You Maintain A Stock Order Ratio That Is Greater Than >60%
Daily review with Service department all emergency orders
Continuous dialog with manufacturers on their overall availability, push them for improved availability
Prepare Recommended Stocking Lists for your "Top 10" customers; advise the customers they are available for review and ordering
This is a short list but very effective in controlling your stock order ratio.
---
Let's Review All Inventory Standards In This Section
Gross Inventory Turnover/True Inventory Turnover (2.4 times)
If your inventory turnover goal is four turns per year then you must factor in the stock order ratio of greater than 60%. You do this by multiplying inventory turn goals of four times by the stock order ratio. This will give you 2.4 turns per year or True Inventory Turnover.
No Movement Inventory
Prepare timely returns to manufacturer (at least one time per year)
Use scrapping policy effectively (minimum of 1% annually)
Review all rush/emergency orders that are non-stock/non-returnable with a value over $500.00
Clearly state and enforce non-stock/non-returnable policy (70% of slow moving inventory is generated in this category)
---
What Should The Parts Department Be Held Accountable For The Total Sales Contribution To The Dealership
The "Top-Tier Dealers" use the following breakdown for contribution to sales revenue:
Parts Sales represent 25% of total revenue
Service Sales represent 15% of total revenue